Halloween (All Saints Day eve)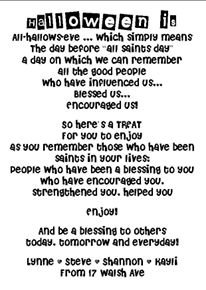 Hey world! It's Halloween.
Halloween is the eve (e'en) before All Hallows Day (Hallow)…
It's a day to remember people whom we are glad of:
people who have inspired us,
helped us grow … challenged us … made our world a better place.
In the past, I've engaged in a little reverse-Halloween activity:
knocking on neighbour's doors to give away treats.
Today, I invite you to remember someone whom you are glad of.
What challenge or encouragement might they offer you today?
---
Lynne
Lynne is Jack Somerville Lecturer in Pastoral Theology at Otago University; Director and Researcher for AngelWings Ltd; and, most importantly, wife-of-Steve; mumma of Shannon and Kayli; and daughter, sister, friend, aunt (and other essential relational connections). She's passionate about helping people discover and grow in relationship with God. Also coffee. And creativity. And sunrises. Beaches. All sorts of good things.
---