2018 Community Demographics
One of the things that I do in my not-working-for-Uni time, is provide demographics based on the Census data to local churches. It's something I have done since forever (er, since the 1986 data was released as Supermap2 in the early 1990s).
It has taken a bit longer than usual, but I've now got the NZ 2018 Census data ready to be made into data on your local community.
Why do this? Because I believe it's important for churches to be engaged and embedded in their local communities. And part of that, is understanding who makes up that community. I reckon that God was and is into local communities – God sent Jesus, after all. That was pretty local.
If you're interested, there is a sample profile that you can download here. (Page 1 is below). Details on how to order are here.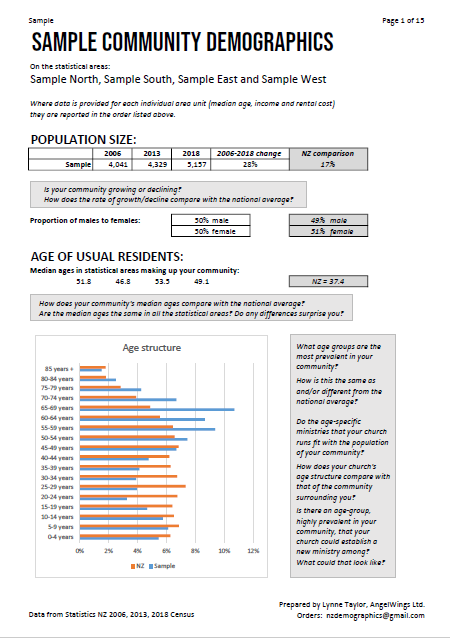 ---
Lynne
Lynne is Jack Somerville Lecturer in Pastoral Theology at Otago University; Director and Researcher for AngelWings Ltd; and, most importantly, wife-of-Steve; mumma of Shannon and Kayli; and daughter, sister, friend, aunt (and other essential relational connections). She's passionate about helping people discover and grow in relationship with God. Also coffee. And creativity. And sunrises. Beaches. All sorts of good things.
---